Entertainment line up for 2012
Saturday Night Dance with
City Fiddle
also appearing will be the Irish Volunteers at
June 23 - 24, 2012
Donate an Auction Piece Contact Mary Beth Serafin
Stay Informed Join our Email List
Check out the New ERA Website. Now recruiting new members and units, great benefits and special offers. Join Now
Other Upcoming Events in
Western New York
We need your Event Info
If you Have a Western New York Event scheduled for the future please list it here. We want to keep our list up to date. All we ask is that you provide a link to your site in an exchange for a link to ours.
---
November 12th 2011 at 11 AM
The 42nd VA Infantry, Company E will be holding our annual Veteran's Day ceremony at the Elmwood Cemetery in Elmira, NY. We ask that all reenactors come in period attire to honor those that are buried there that we represent. For more info contact Brian Kendall or Jon Asplin.
---
---
June 23 - 24, 2012
9th Annual Marilla Civil War Days
---
Stay Informed Join our Email List
---
If do not see your event listed please send your info to Civil War Event Listing subject line: Civil War Event for 2012
---
---
Buzz Cuts Landscaping
Country Diesel Services, Inc
Dawn Enterprise
Deborah A Spect
Democratic Club
Earl Gingrich Jr.
Kiwanas Club
Lorraine Martzolf
Marilla Self Storage (716) 655-5891
Patrons Sponsors
Marilla Republican Club
Shirley Limpinsel
---
Gas Prices on the Rise
Check for lowest gas prices in your area. Go to Gasbuddy.com
---
New Web Site

Check it Out
Zip Code
for
Marilla NY is 14102
---
June 23 - 24 2012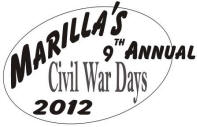 June 23 - 24 2012
---
Marilla is now going into our 8th year.

NEW DATE

June 23 - 24, 2012

NEW DATE
We need your help, please report any broken links here. Your help will be greatly appreciated. If any links do not work or go to dead websites please let us know.
---
Marilla Civil War Days
Sutlers Row
---
Rob't E Yott Union Blue Sutlery
---
Civil War Sutlery
---
Knowlton Woodworking
---
---
---
---
---
---
---
Katie McNamara Seamstress
---
---
If you would like to see your Sutlery listed here please send your info to Sutlers Row Listing in exchange for a link to your web site.
Zip Code
for
Marilla NY is 14102
Click here for some interesting information the American Civil War and all other wars in our history.
Reenactment News
Oct 9, 2010
Marilla NY Parade coming on Nov 7, 2010
Sunday Nov. 7th is the 11th Annual Veteran's Day Parade. Parade Line up at 11:30am at the Marilla Fire Hall The parade starts at 12:00 noon, and marches North on Two Rod Road to Bullis Road one block away. We will have our Mortars behind the fence across from the Veteran's Memorial. After the Conclusion of the ceremony a free roast beef dinner will be provided by the Marilla Grill to all Participants.
This year we will have both Union and Confederate units in the parade.
Hope to See you there Dave and Dottie
Sept 22, 2010
New Web Pole added to web site. In an effort to gather some attendance estimates for 2011, a web poll was added to this site on the left side of this page. Please help us out by answering a few questions, then click Submit..
Aug 12, 2010
Here are a few pictures from Marilla Civil War Days 2010. Click on Picture to Enlarge.
June 30, 2010
Marilla Event Date Announced for 2012.
It going to be the last week end in June 23 - 24. We have a lot of ideas in our head for next year, you will never know what might squirt out.